Enabling transparency
and
food choices
Consupedia has built the world's largest sustainability database for foods together with the University of Dalarna and The Royal Institute of Technology. We are 100% independent and here to provide fact-based information to guide more sustainable decisions and innovations.
Revolutionising the food system for a more transparent and sustainable world.
How it works:
1
The Data
Our database has the most holistic and detailed sustainability information available, gathering data from leading sources such as RISE, WHO, FAO Stat, Gapminder, EFSA, and more. The database includes 19 sustainability parameters with regards to the food's impact on the environment, social justice and health. 
2
The Food
Consupedia has developed a unique process that allows us to assign any type of food – from micronutrients to food products and meals – an unlimited number of sustainability attributes. These include geographic origin, carbon and water footprint, use of antibiotics, risk of child labour, health-impact and much more.
3
The Tools
Our tools and applications make our database accessible and useful for stakeholders across the food system. We can help you 1) connect your database to ours (API) and complement it with sustainability data; 2) calculate and/or communicate your product's sustainability impact, 3) plan more sustainable and waste minimising meals; or 4) Access our data via our smartphone apps, and much more. 
Download the app today. It's free and contains no ads, just pure knowledge.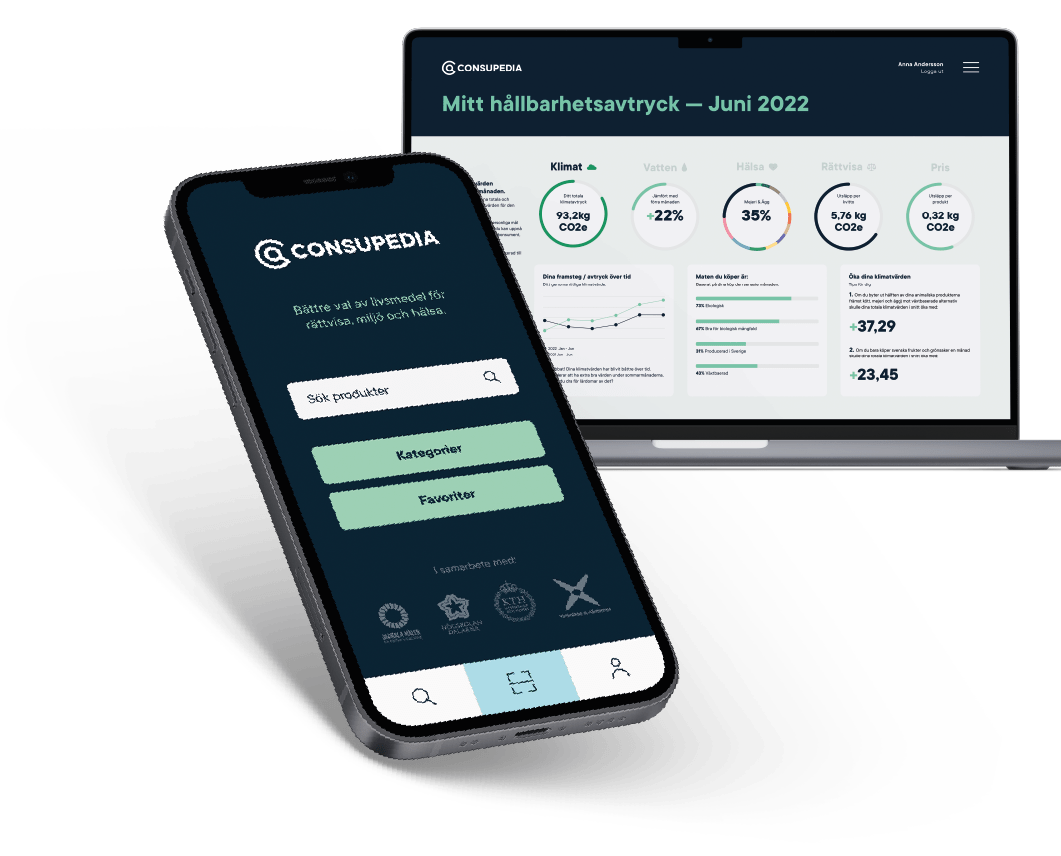 4
The Future
Our imagination is the only limitation as to how this data can contribute to  a more transparent, green, fair and healthy world. Through our database, Consupedia serves as a catalyst for innovations within the food-tech ecosystem and helps nudge stakeholders across the entire food system towards more sustainable choices.

How can we help you become more sustainable?
"Consupedia will transform food environments and the food system by putting key information in the hands of the consumers"
Stefan Swartling Peterson
Professor of Global Transformations for Health at Karolinska Institutet and former Chief of Health for UNICEF
"Consupedia provides consumers with a unique tool on their journey towards sustainable lifestyles"
Cecilia Katzeff
Associate professor in human-computer interaction at the Royal Institute of Technology
"Consupedia is absolutely central to the ability to map and describe the food environment, which until now has been an invisible determinant of public health"
Caisa Laurell
MD and researcher ST in occupational and environmental medicine
"The only democratic way to a sustainable society is through people's informed choices. Consupedia enables informed choices, by providing key information at the right time."
Sverker Johansson
Senior advisor University of Dalarna, Fil Dr fysics, Fil Mag linguistics
"There is a need to build consumer awareness as we know very little about the production of food and this is detrimental for our health and planet"
Shakira Choonara
WHO/ UN Women, South Africa
Previous
Next